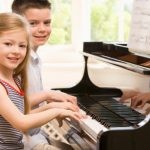 Classes from beginner level to diploma and advanced level

I have 15 years of experience teaching students from beginners level to diploma and advanced levels. Some of my students have gone on to successful careers in music and others have distinguished themselves in exams, concerts and competitions. I have been a member of staff at Newpark Music Centre (Dublin), Waterford Institute of Technology (Waterford) and head of piano at Schola Cantorum, St Finians, Mullingar.
Rachel is an inspirational teacher with a remarkable breadth of experience. Her pedagogy is as virtuosic as her playing and it is a privilege to be taught by her.

Penny Healy Harris
Royal Irish Academy of Music Exams
I also teach privately and very much enjoy working with students of all ages and encouraging and nurturing their love of music and piano playing. My students play a wide range of repertoire and many have achieved success in Royal Irish Academy of Music Exams (Ireland) and Associated Board of Music Exams (UK). I also have many students who simply want to develop their love of piano playing through the study of popular pieces without the pressure of exams.
As a senior citizen I've had many teachers. Rachel has taught me how to appreciate the many depths to a piece. It is great to be inspired to enjoy compositions over again from a new perspective

Richard Cahill